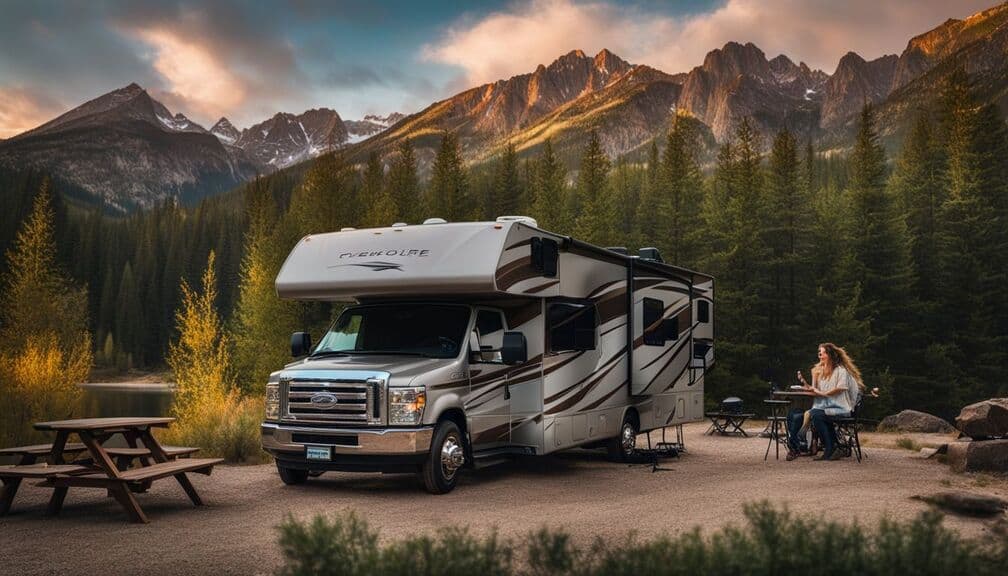 Are you stressed and longing for a break from the hectic city life? Do you know why camping is fun? It's an adventure that not only connects you with nature but also offers numerous health benefits like reduced stress levels and increased vitamin D production.
Key Takeaways
Camping is a thrilling adventure that allows you to connect with nature and offers numerous health benefits, such as reducing stress levels and increasing vitamin D production.
It provides outdoor recreation and education opportunities, allowing you to learn about wildlife, study bugs and trees, and discover new things about the world in a fun way.
Camping lets you connect with nature by experiencing wildlife up close, enjoying the fresh air and soothing sounds of the forest, and learning about different plants and animals.
Going camping helps reduce stress levels by providing an escape from city life stressors and offering fun adventures that boost happy feelings in your brain.
It's an excellent opportunity to spend quality time with family and friends, disconnect from technology, share stories around the campfire, and strengthen bonds through teamwork activities like setting up camp together or cooking meals as a group.
Camping involves physical activity like hiking or fishing, which improves cardiovascular fitness, builds strength, and burns calories, all while surrounded by refreshing nature.
Camping gear rentals are available for those who don't have their own equipment or prefer not to buy it. Rental companies offer various items like tents, sleeping bags & safety equipment, making it easier for campers to find everything they need in one place. Renting gear can be more cost-effective if you only plan on going occasionally.
Benefits of Camping
Camping offers outdoor recreation and education opportunities, allowing individuals to connect with nature, reduce stress, improve mental health, spend quality time with loved ones, and engage in physical activity.
Outdoor recreation and education
Camping is a great way to learn outside. You can see wildlife up close, not just in books or on the TV screen. There are bugs, trees, and animals to study. The night sky full of stars is like a shimmering tapestry, inviting us to lose ourselves in its celestial beauty.
Kids can learn nifty stuff like how crickets tell temperature. It's also an opportunity for fun games like scavenger hunts that help kids learn more about nature. Through camping, we all get to find out new things about our world in a fun way!
Connecting with nature
Camping lets you bond with nature. It pulls you from your busy life and puts you amid wildlife. You get to see trees, listen to birds sing, and watch squirrels play.
Each day holds new animal shows for free! At night, clear skies give a light show of stars.
You also feel more alive when out in nature during camping trips. The fresh air fills your lungs while the sounds of the forest soothe your ears. Being outdoors is good for mental health, too! Plus, it's fun to learn about the different plants and animals to be found around your campsite.
Camping offers an adventure into self-discovery as you explore nature.
Reducing stress and improving mental health
Camping allows you to say goodbye to city life stress. It helps your mind feel calm and free. You can breathe in fresh air and enjoy the quiet sounds of nature. This helps reduce your body's stress levels.
Outdoor activities offer a chance for a fun adventure. These adventures help boost happy feelings in your brain. Simple acts like watching wildlife or sitting by a campfire can make you feel good.
So, camping does not just improve health, it also makes you feel happier.
Quality time with family and friends
Camping is a great way to spend quality time with family and friends. When you go camping, you can disconnect from technology and reconnect with your loved ones. You can gather around the campfire, share stories, roast marshmallows, and enjoy each other's company.
Additionally, camping provides opportunities for teamwork and collaboration as you set up camp together, cook meals as a group, and participate in outdoor activities like hiking or fishing. It's a chance to strengthen bonds and create lasting memories with those who matter most to you.
Physical activity
Camping is not just about sitting around the campfire and roasting marshmallows. It also provides an opportunity for physical activity and exercise. Whether hiking, fishing by the lake, or setting up your tent, camping keeps you moving.
Being active outdoors can have many benefits for your health and well-being. It helps to improve cardiovascular fitness, build strength, and burn calories. Plus, being surrounded by nature makes exercising more enjoyable and refreshing.
So when you go camping, don't forget to pack your hiking shoes and get ready to explore the great outdoors!
Essential Equipment for Camping
You will need a tent and sleeping gear, cooking supplies, and safety and emergency supplies for camping.
Tent and sleeping gear
Tents and sleeping gear are essential for a successful camping trip. Tents provide shelter and protection from the elements, allowing you to sleep comfortably at night. They come in different sizes and styles to accommodate various group sizes and preferences.
Sleeping gear includes sleeping bags, air mattresses, or camping cots to ensure a good night's rest. It's important to choose gear suitable for the weather conditions and terrain of your camping location.
Proper setup and maintenance of your tent will help keep you dry and secure during your outdoor adventure. Don't forget essentials like stakes, guy lines, and a mallet to secure your tent correctly.
Cooking supplies
For a successful camping trip, it's essential to have the right cooking supplies. These items will help you prepare delicious meals while enjoying the great outdoors. One critical piece of equipment is a portable camping stove, which allows you to cook food even if there are restrictions on open fires.
You'll also need pots and pans, utensils, plates, and cups for serving your meals. Don't forget a cooler or icebox to keep your perishable food fresh. It's also a good idea to bring some basic spices and condiments to flavor your dishes.
With these cooking supplies, you can enjoy tasty meals and make lasting memories around the campfire.
Camping gear rentals
Camping gear rentals are a convenient option for those who don't have their own camping equipment or prefer not to buy it. Renting camping gear allows you to try out different types of equipment without the commitment of purchasing, and it saves you from the hassle and expense of transporting your own gear.
Many rental companies offer a variety of items, such as tents, sleeping bags, cooking supplies, and safety equipment. This makes it easier for campers to find everything they need in one place.
Additionally, renting camping gear can be more cost-effective than buying if you only plan on going camping occasionally. So whether you're a beginner camper or an experienced outdoor enthusiast, renting camping gear is a practical choice that ensures you have all the necessary equipment for an enjoyable camping experience.
Safety and emergency supplies
To ensure a safe camping trip, it's important to have the proper safety and emergency supplies. First, make sure you have a first aid kit stocked with bandages, antiseptic ointment, and other essentials.
These supplies will come in handy for treating any minor cuts or scrapes that may occur while exploring nature. Additionally, bring along a flashlight or headlamp with extra batteries. In emergencies or power outages at night, you'll be glad to have a reliable light source.
It's also wise to pack a whistle in case you need to signal for help. Lastly, don't forget about your fire safety equipment. Make sure to bring a fire extinguisher and know how to use it properly.
Conclusion
Camping is a fun and exciting way to connect with nature and escape the stress of everyday life. It offers physical activity, quality time with loved ones, and the chance to discover new adventures.
Sale
Bestseller No. 1
Survival Kit and First Aid Kit, 142Pcs Professional Survival Gear and Equipment with Molle Pouch, for Men Dad Husband Who Likes Camping Outdoor Adventure (Black)
【Christmas gift ideas】 High-quality comprehensive emergency survival first aid equipment, best gifts for men, father, family, friends. You can enjoy a more relaxed and safe adventure with our survival kit. If you and Your family, are not satisfied with our product, please contact us in time, we will serve you wholeheartedly.
【A Must Have Survival First Aid Kit】LUXMOM survival kit is unique in that it was specifically designed by survival experts. The comprehensive survival kit not only includes 21pcs multipurpose survival tools, but it also offers 106pcs first aid kit, and a fishing tools set which can meet your different needs and provide the most safest and comprehensive protection for any outdoor activities like camping, hiking, car travel, climbing, boating, etc.
【Wide application range】This survival kit is great for firefighters, first aid personnel, hikers, campers, outdoor sports enthusiasts, etc. It is idea for car, ship, bicycles, motorcycles, workplace, travel, shooting, hunting, camping, hiking, fishing, boating, cycling, outdoor sports, wilderness adventure and other activities.
【Practical Survival Gears & First Aid Kit】LUXMOM emergency kit contains the most popular survival accessories: Hatchet, 3-mode flashlight, Multifunctional Card, Survival Bracelet, Dual-tube Whistle, Wire Saw, Parachute Cord, Emergency Blanket, fire starting tools, fishing tools, comprehensive first aid kit, etc. All these gears can make sure that the wound can be treated in time to prevent infections.
【Compact Lightweight & Durable】All items are neatly arranged in a 600D nylon bag measuring 9 inches x 6 inches x 5 inches. Easy to carry, small and lightweight, can hold all the 142pcs emergency supplies and survival tools. There is still room to add your own gear. The Molle compatible straps on the back allow you to attach it to other bags or your belt, which made it a perfect companion for any outdoor activities.
Bestseller No. 2
Stanley Perfect Brew Pour Over Set with Camp Mug- Reusable Filter – BPA-Free – Easy-clean Stainless Steel Coffee Maker – Hammertone Green
Note: 1)Too coarse a grind, too little coffee, or insufficiently tamping the grounds before brewing can all lead to inadequate pressure for a proper brew. 2)It is important to note that the amount of espresso extracted will vary depending on the grind size and amount and refinement may be needed when the size and amount are adjusted
BEST BREW EVERY TIME: Refresh your coffee experience with Stanley products coffee maker! The Stanley Pour Over coffee maker is a traditional way to brew using a Stainless Steel filter. Brew pour over coffee like a pro at home. It is easy to use, and environmentally friendly
STAINLESS STEEL FILTERS: The stainless steel design is stylish and non-breakable. The stainless steel filter helps extract your coffee's aromatic oils and subtle flavors instead of being absorbed by a paper filter. It's a smarter option for your coffee. The perfect solution for brewing your fresh brewed coffee at home, in your office, or outdoors
EASY TO USE: Pour the desired amount of coffee into the filter, place on top of a cup, coffee mug, slowly pour in the hot water, let the coffee maker drip out the water through the fine pour over filter, and remove the coffee dripper when done. Now you are ready to enjoy your drink
EASY TO CLEAN: Once done using the coffee brewer, rinse it quickly by hand and immediately use it again within 2-3 minutes for another flavor. Since it is a reusable coffee strainer made from stainless steel, it is better quality than plastic, ceramic, or glass coffee filters, it saves you money not buying paper coffee filters
Bestseller No. 3
OlimpiaFit Quick Dry Towel – 3 Size Pack of Lightweight Microfiber Travel Towels w/Bag – Fast Drying Towel Set for Camping, Beach, Gym, Backpacking, Sports, Yoga & Swim Use
COMPACT DESIGN – This sports towel set is packable for the gym, beach, and anywhere else you need them. They can easily be condensed in size 4x smaller than a camping towel of the same size.
FAST DRYING – Made with fibers that are much thinner than a standard microfiber towel, our quick dry towels have 4x as much surface area, allowing them to absorb more water and dry up to 3x as fast.
MULTIPURPOSE – Each set includes 3 lightweight travel towels in the sizes 50″x30″, 30″x15″, and 15″x15″. Use them as swim towels to dry off, gym towels during a workout, or small beach towels on vacation.
HIGH QUALITY – Every microfiber travel towel is made with premium material that shares the same smooth qualities as satin. They're also super absorbent, odor-resistant, and won't smell after drying.
SOFT – If you're looking for a packable beach towel or swim towel, give this one a go! It has a slip-resistant surface and extra plush microfiber that is oh-so-gentle on your face, body, and skin.
Sale
Bestseller No. 4
CL Thermal Underwear Long Johns for Men,Hunting Gear Sport Top and Bottom Set Winter Base Layer Long Underwear for Outdoor
Extreme Warmth and Comfort: Perform your best, even on a chilly day when you wear CL fleece thermal underwear ! Adding some extra cozy, warm fleece to the mix, CL long johns for men amazingly help to tackle cold weather conditions and keep the comfort you crave. Made from 90% polyester and 10% spandex super soft fabrics, they also help reduce pilling and shrinkage. Prepare yourself for the cold with these fleece lined thermal underwear for men!
Strong Moisture Wicking(Without the Sweaty Mess): Our fans say the unique breathable, moisture-wicking fibers on CL thermal underwear will wick away moisture to keep you dry with no sticky or clammy feeling so you can wear them all day for your work or snow adventure. The smiles on men's faces will tell you how satisfied with this thermal underwear set.
4-Way Stretch Insulated Underwear: While adopting the design of the Four-way stretch, we improved the crotch and armpit according to the feedback of market customers. make the reach and squat more comfortable while retaining excellent elasticity and durability for maximum mobility. CL uses high-quality stitching for thermal leggings and long sleeve shirts to beat super-active days and many muddy adventures.And insulated design let you get rid of static trouble in dry autumn and winter.
Easy Care Of Base Layer Set:Our men's base layer top and bottom are set with no labels in order to obtain greater comfort, which can reduce any skin irritation. You can slip them on and off easily and can be worn under your clothes for added insulation and at the gym for added support and movement. And these men's thermal underwear will not fade after washing. The highest dyeing fastness even after multiple washing will not fade and shrink.
For Any Occasion: We stock these crew or turtle neck thermals for men in a wide range of sizes. The thermal set is fitted with elastic for added comfort to keep tops and bottoms from falling down or bunching up (even on long hiking), and if your family enjoys hunting, camping, snowboarding, skiing, cycling, or running then CL makes a great base layer. Also it is good to wear at home or as a base layer under your coats, it will warm you as comfy pajamas on cold nights.
FAQs
What makes camping a beneficial adventure for individuals seeking to connect with nature?
Camping is a unique adventure that immerses you in the natural world, offering direct interaction with wildlife, the soothing ambiance of the forest, and a chance to learn about the ecosystem. It's an engaging way to experience the outdoors, providing both recreational and educational opportunities.
How does camping contribute to reducing stress and improving mental health?
The tranquility of a camping environment, away from the hustle of city life, allows for relaxation and mental rejuvenation. Engaging in outdoor activities and embracing the serenity of nature can significantly lower stress levels and promote a sense of happiness and well-being.
Can camping foster stronger relationships with family and friends?
Absolutely. Camping encourages quality time with loved ones, free from the distractions of technology. It's an opportunity to engage in collaborative activities, share stories by the campfire, and build lasting memories through shared experiences in the great outdoors.
What are the physical health benefits of camping?
Camping naturally involves physical activities such as hiking, fishing, or setting up a campsite, which can improve cardiovascular health, enhance strength, and contribute to calorie burn. The active nature of camping makes it a fun and invigorating way to maintain physical fitness.
Is camping gear available for rent, and what are the advantages of renting over purchasing?
Yes, camping gear rentals are widely available and offer a practical solution for those without personal equipment or who camp infrequently. Renting allows you to try various gear types and save on the costs and logistics of purchasing and transporting camping equipment.
What essential safety and emergency supplies should be included for a camping trip?
For a safe camping experience, pack a comprehensive first aid kit, a reliable flashlight or headlamp with extra batteries, a whistle for signaling, and fire safety equipment like a fire extinguisher. These items are crucial for addressing minor injuries, navigating in the dark, and ensuring fire safety.