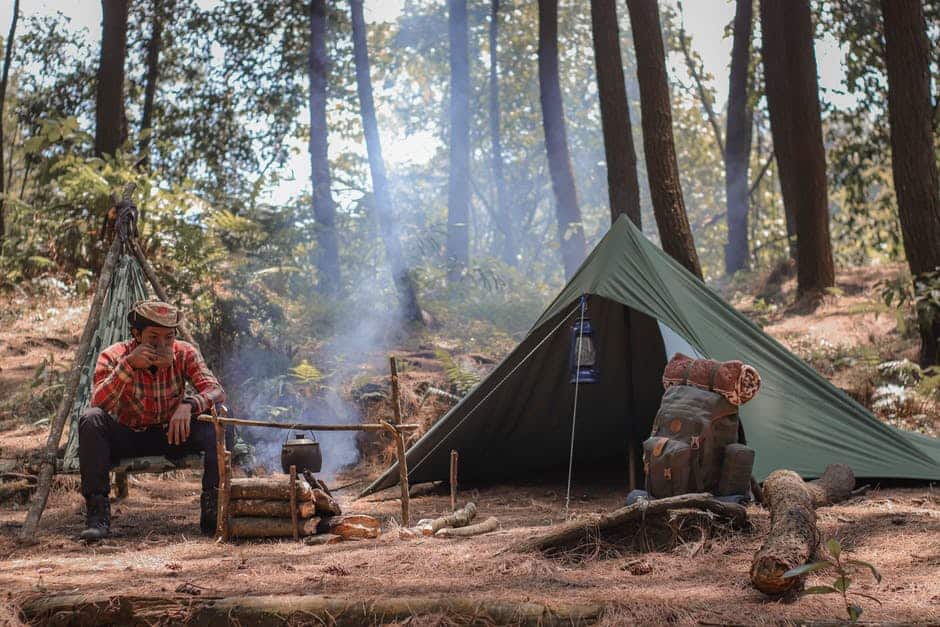 Are you yearning for an authentic camping experience? Pioneer camping takes you back to the basics, giving you a taste of how early settlers once lived.
It's a unique adventure, unlike any other camping type. Are you ready to dive deep into the world of pioneer camping? Continue reading, and let's explore!
Key Takeaways:
Authentic Outdoor Experience: Pioneer camping is a form of camping that strips down to the basics, reminiscent of early settlers, offering an authentic outdoor experience that relies on personal skills and nature.
Self-Sufficiency: This style of camping emphasizes self-sufficiency, requiring campers to forage for resources like water and firewood, and to be skilled in fire-making and campsite setup.
Minimalist Approach: Pioneer camping is characterized by a minimalist approach, often without the amenities of modern campsites, which can lead to a deeper connection with the environment.
Essential Gear: Proper preparation is crucial, with essential gear including a durable tent or tarp, tools like axes and knives, cooking supplies, and safety items such as a first aid kit and water purification tablets.
Skill Development: Engaging in pioneer camping can enhance outdoor skills such as navigation, fire-making, and resource gathering, contributing to personal growth and self-reliance.
Connection with Nature: The simplicity of pioneer camping allows for an undisturbed connection with nature, offering a peaceful and grounding experience away from digital distractions.
Safety and Training: While pioneer camping can be safe with proper preparation, it is advisable to have basic outdoor survival skills or to camp with someone experienced, and to be aware of local wildlife and potential hazards.
What Is Pioneer Camping?
Pioneer camping is a rustic, back-to-basics camping style reminiscent of the early pioneers. You rely on nature and your skills without the luxuries of modern campsites. This is what sets it apart.
Pioneer Campgrounds
There are many types of campsites. Pioneer campgrounds are often off the beaten path.
They may not have designated campsites or any kind of amenities. It's all about finding your perfect spot in the wild.
Don't expect faucets here! You'll be finding water sources in the wild, such as from nearby streams or lakes. Always ensure the water is purified before drinking or cooking.
Fire is essential in pioneer camping for warmth and cooking. Creating your fire pit is a skill, ensuring it's safely positioned and maintained.
Packing For Pioneer Camping
Preparation is key. Without the right gear, your trip may become challenging. Consider the following:
Shelter
A durable tent or tarp is vital. Some campers even prefer hammocks.
Tools
Think of axes, knives, and rope. These tools will aid in tasks like firewood collection or tent setup.
Cooking Supplies
Remember, there's no store nearby! Pack non-perishable food items and a portable stove or grill.
Safety Items
Safety items include first aid kits, a compass, a map, and water purification tablets. Always keep them easily accessible in your backpack.
Benefits of Pioneer Camping
Why should you choose this raw, undiluted experience? Here are some reasons to consider:
Connection With Nature
You connect deeply with the environment without distractions. It's a peaceful, grounding experience.
Skills Development
Pioneer camping sharpens your outdoor skills. From fire-making to navigation, you'll become a camping pro.
Simplicity
Even for a few days, the joy of living can be rejuvenating. It's a nice break from the digital world and daily stresses.
Is Pioneer Camping Safe?
Yes, with proper preparation and awareness of your surroundings, pioneer camping can be a safe experience. Always inform someone about your trip location and expected return.
Additionally, familiarizing yourself with local wildlife and potential hazards can enhance your safety. Ensure your campsite is safe from elements like sudden rain or strong winds.
Do I Need Special Training?
While not mandatory, having basic outdoor survival skills or camping with someone experienced is beneficial. Attending basic wilderness survival workshops or courses can be a fantastic preparation.
Also, read up on pioneer techniques and strategies. It helps to know How To Make Fire With Sticks.
Can Kids Go Pioneer Camping?
Absolutely! However, ensure they are well-prepared and educated about potential dangers.
It's also an excellent way for them to learn and appreciate nature. Parental supervision is crucial, especially if it's the child's first time.
Consider engaging them in preparatory activities before the trip, like setting up a tent or identifying edible plants.
Quick Tip: Self sufficiency is great, but sometimes, knowing Where to Buy Firewood for Camping might be better.
Pioneer Camping: A Timeless Adventure
Pioneer camping offers an unfiltered, genuine connection to nature. It's a journey of self-reliance, skill-building, and rediscovery. Whether you're a seasoned camper or a newbie, this experience will leave an indelible mark on your heart.
Sale
Bestseller No. 1
Bow Drill Fire Starter Kit, Pskook Survival Tool, Primitive Friction Fire Starting Kit, Bushcraft Gear, Camping Safety Equipment, Outdoor
🔥 [EASY-TO-USE BOW DRILL FIRE STARTER KIT] Keep drilling the fire board vertically until producing smoke by friction with the wrapped sting of the bamboo handle, then you can make the fire. Whoever can quickly get started, easily experience and master the primitive fire method.
🏅 [HIGH-QUALITY] Bow and handle are made of high-quality bamboo, the surface is smooth and does not hurt your hands.fire board uses high-quality paulownia wood and reserve 10 holes. The inner core of the rope uses 7 high-strength polyester cores with strong bearing capacity and good wear resistance.
🛠 [CONVENIENT AND DURABLE] Thickened high-quality wood, matched with high-carbon steel bearings and ropes, the number of rotations can reach more than tens of thousands of times. We have already assembled the product, and it also comes with jute tinder, you can use it as soon as you receive it, no need to assemble it by yourself.
👦 [GOOD GIFT] It's a good fire starter survival tool for scout or outdoor explorers to train and teach, and also a good outdoor educational tool, which can develop the patience, persistence, attentiveness, concentration, and outdoor emergency survival capability.
✔ [SERVICE GUARANTEE] Your satisfaction is our top priority, please rest assured to purchase our products. If you are not satisfied with our products or have any questions, please feel free to contact us by Amazon message at any time.
Bestseller No. 2
Survival Settlers Tool Bushcraft Gear and Equipment,Bushcraft Hand Auger Wrench for Camping and Outdoor Backpacking Scotch Eye Wood Auger Drill Bit Wood Peg and Hole Maker Multi Tool with Sheath
Camping Survival Equipment –The bushcraft multi tool is a bushcraft survival hand operated portable wood auger designed to drill holes in tree stumps, logs, and branches as well as making the end of a peg to fit the hole.This is the perfect survival gear for any outdoor enthusiast, shrub craftsman, carpenter or craftsman, etc.
Scotch Eyed Settlers Wrench — This survival gear and equipment is made of premium hardened oxidized steel,good welding between auger bit and the scotch eye,durable and sturdy.Find a stick a little larger than the peg-maker(1 inch), using a large stick, hammer the peg-cutter into the branch. Peel away the excess wood to reveal a perfect peg. What'more,hand auger wrench comes with leather sheath to protect your hand.
Essential Manual Survival Tools — Self-tapping pilot screw design for easy hand powered wood auger bit and labor-saving.Turning the 1inch wood drill bit to the position where you want to drill, pass the outdoor pill box (INCLUDE) through the eye for leverage, then spin to drill a hole. Finally insert the peg into the holes for a perfect connection.The cylindrical fitting acts as a lever for the Scotch Eye,no need to make another suitable stick.
Bushcraft Gear and Accessories — Wood working tools and equipmentallows you to bore the perfect size hole needed for any situation.Suitable for for soft wood / green wood projects such as chairs, mallets, ladders and camping.In addition to the hand auger wrench, the survival gear kit comes with a storage bag, a leather case, and a Scotch Eye accessory,easy to store, carry and operate.
Bushcraft Gear for Every Explorer — Carry this outdoor tool when you're outdoors camping, hiking, backpacking, bushcrafting, EDC or building with primitive cabin tools in the wild,use it to help you make fish traps, chairs, drinking steins, other tools like mallets, ladders, pump drills, and maple syrup taps – It will even help you make an emergency shelter.
Sale
Bestseller No. 3
SOG Jungle Primitive Fixed Blade- Field and Camping Tactical Machete with Sheath for Clearing Brush, Full Tang Survival Knife 15.3 Inches (F03TN-CP), Steel,Black
FULL TANG MACHETE KNIFE BLADE: This small machete is a heavy duty jungle machete, military machete, garden machete and hunting machete; machete full tang survival knife measures 15.3 inches in total length
TACTICAL MACHETES WITH SHEATH: Brush machete stores easily in its ballistic nylon compact machete sheath with storage pouch; use as a hiking machete and tree machete with the rugged belt loop sheath
STAINLESS STEEL SAWBACK MACHETE: Hardcased black military machete is made with hardcased 8Cr13MoV stainless steel; jungle knife serrated edge is ideal for survival machete heavy duty cutting and sawing tasks
BIG KNIFE W/ KRATON HANDLE: SOG's Digi-Grip keeps this machete heavy duty, lightweight and easy to handle; a great 14-ounce machete for camping, gardening, or clearing brush, grass, saplings and tree branches
SOG MACHETE FOR LIFE: Take care of your tactical machete knife with sheath and we'll take care of you; your SOG's survival knife machete is built to last, and we consider all repair and replacement requests
Bestseller No. 4
Stanley Adventure Nesting Two Cup Cookset
IDEAL OUTDOOR ACCESSORIES: The Stanley cook kit is perfect for outdoor cooking for hot meals, coffee, or boiling water Our cooking pots come with a vented top to let steam escape or strain liquid This is a great survival supplies gift too
VERSATILE HANDLE: We designed the handle to provide maximum comfort and stability while it's on the stove The locking handle extends for stable cooking but folds over the lid to save space with the rest of your gear
DURABLE AND BPA-FREE: The kettle / coffee maker is constructed with 18/8 stainless steel and features two insulated portable 10oz/295mL tumblers to enjoy hot and cold beverages The entire kit is made with BPA free materials
LIGHTWEIGHT DESIGN: The stovetop mess kit with cups loaded weighs 13 9oz and empty it's only 7 8oz which makes it travel and backpack friendly The kettle has graduated marks going up to 20oz
Bestseller No. 5
RuRu monkey 50L Hiking Backpack, Outdoor Camping Backpack, Travel Backpacking Backpack for Women Men
💪 SUPERIOR QUALITY – Our outdoor backpack is crafted from premium ripstop materials, ensuring exceptional durability and reliability, perfect for all your hiking and camping adventures
👍 ULTIMATE COMFORT – Experience unmatched comfort with our hiking backpack's ergonomic design, featuring breathable materials and cushioned straps for ultimate support during long hikes and backpacking trips
🎒 SPACIOUS & ORGANIZED – 50L camping backpack is designed for 2-3 day adventures, boasting multiple storage pockets and compartments (including large sleeping bag compartment) to store all your essentials. Stay organized and ADD TO CART now
💦 WATER RESISTANT PROTECTION – Safeguard your gear with our backpacking backpack's water-resistant polyester materials, ensuring maximum protection from rain and wet conditions, so you can focus on your outdoor adventure
🏃‍♂️ LIGHTWEIGHT & VERSATILE – Weighing only 2.2lbs (1kg), our lightweight hiking backpack is perfect for long hikes and all kinds of camping. Enjoy the convenience of multiple features designed for the outdoors
FAQs
What defines pioneer camping?
Pioneer camping is a rustic and traditional form of camping that echoes the experiences of early settlers. It involves a back-to-basics approach where campers rely on their skills and the natural environment, without the convenience of modern campsite amenities.
How does pioneer camping differ from standard campground camping?
Unlike standard campground camping that often includes facilities like running water and toilets, pioneer camping typically takes place in more remote areas without designated campsites or amenities. It requires campers to be self-sufficient, sourcing water from natural settings and creating their own fire pits.
What are the essential items to pack for pioneer camping?
When preparing for pioneer camping, essential items include a durable shelter such as a tent or tarp, tools for woodcutting and campsite setup like axes and knives, cooking supplies for meal preparation, and safety gear including a first aid kit, compass, map, and water purification tablets.
What are the benefits of engaging in pioneer camping?
Pioneer camping offers a profound connection with nature, an opportunity to develop outdoor survival skills, and a chance to enjoy the simplicity of life away from modern distractions. It's a form of camping that can be both a peaceful retreat and a challenging adventure.
Is pioneer camping safe and what precautions should be taken?
Pioneer camping can be safe with proper planning and awareness. It's important to inform someone about your trip details, understand local wildlife and potential hazards, and ensure your campsite is secure from environmental elements. Carrying a comprehensive safety kit and having knowledge of basic survival techniques is also recommended.
Do I need special skills or training for pioneer camping?
While special skills are not mandatory, basic outdoor survival skills are highly beneficial. Consider attending a wilderness survival workshop or learning pioneer techniques to enhance your preparedness. Camping with an experienced outdoors person is also advantageous for beginners.
Can children participate in pioneer camping?
Yes, children can enjoy pioneer camping, but it's essential to prepare and educate them about the outdoors and potential dangers. Parental supervision is crucial, and involving them in camping preparations can be an educational and bonding experience.