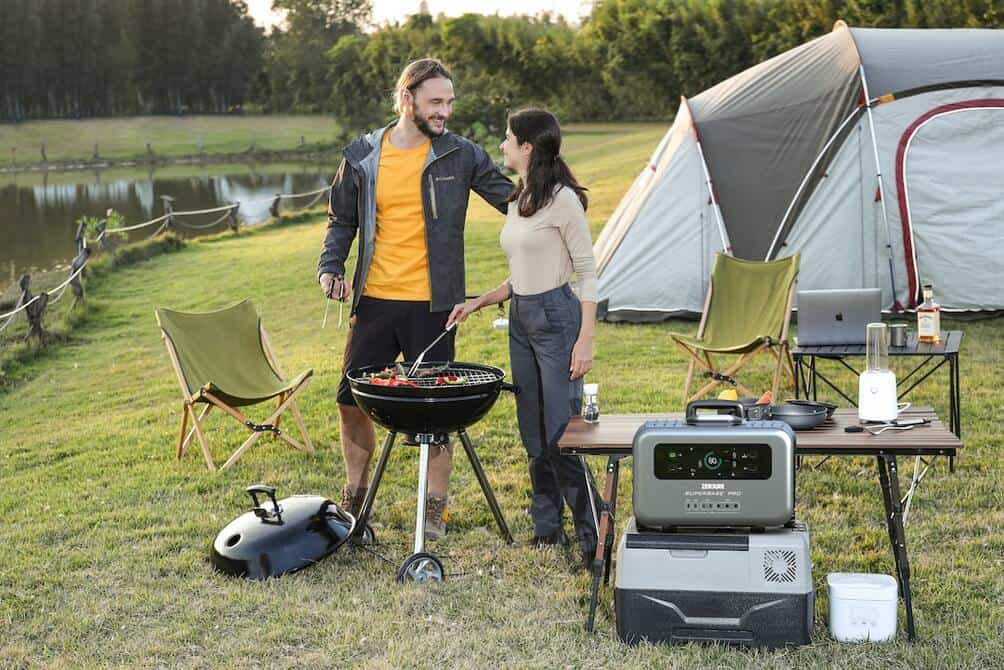 If you want to experience the excitement of camping but don't enjoy being without the comforts of home, you need to invest in portable generators for camping. However, with so many options on the market nowadays, how do you know which one to buy?
This blog is here to help, so keep reading to learn more about portable generators for camping so you know what kind you need for your next adventure.
Key Takeaways:
Generator Types: The article distinguishes between two main types of portable generators for camping: fuel generators and solar generators. Fuel generators are more powerful but noisier, while solar generators are quieter and more environmentally friendly but less powerful and require recharging.
Choosing the Right Generator: Factors to consider when selecting a generator include the intended usage and power output, preferred fuel source, and the generator's weight and size. The article emphasizes the importance of matching the generator's capacity with the campers' power needs and the practicality of transporting it.
Usage and Power Output: The article suggests assessing how much power you need based on the devices you plan to run. For minimal power needs like charging devices or lights, a less powerful generator is sufficient. For running multiple high-wattage appliances, a more robust generator is necessary.
Fuel Considerations: The choice between a fuel or solar generator can depend on ongoing fuel costs and the camping site's rules regarding generator use. Some sites may not allow fuel generators at all.
Weight and Size: The physical size and weight of the generator correlate with its power output. The article provides examples of different generator sizes and their respective weights to help readers make informed decisions.
Practical Tips: The article provides quick tips and refers to other related articles for more detailed information on grounding a generator, camping must-haves, and off-grid camping essentials.
Comfortable Camping: Emphasizing comfort, the article concludes that portable generators allow campers to enjoy modern conveniences while in the great outdoors, suggesting that a well-chosen generator can enhance the camping experience by providing power for heating, cooling, and electronic devices.
Types of Portable Generators for Camping
When looking at portable generators for camping, there are two primary types: fuel generators and solar generators. Each has benefits that you have to weigh, depending on your camping style.
Fuel Generators
These types of generators are typically more powerful than their solar counterparts. One of their benefits is you don't have to recharge them. When they run out, replace them with extra fuel.
A drawback for those who enjoy quiet camping is the noise pollution. Unfortunately, these generators are noisy to run.
Solar Camping Generators
Solar generators are a cleaner option and are silent. If you enjoy camping with only the sounds of nature, this is the generator to buy.
A disadvantage to solar generators is they need to be recharged once their batteries are depleted, which can take time. They also are less powerful than fuel generators, so you're more limited on the number of devices you can power.
How to Choose a Camping Generator
Now that you're familiar with the types of generators available, it's time to consider some other factors before you spend any money. These factors will help you narrow your search to find the best portable generator for your trip.
1. Usage/Power Output
One of the first considerations is how much you want to use the generator. If you only need it for recharging portable devices and running lights, you can choose a battery that uses less power. However, if you want it to run multiple high-watt appliances, you'll need to buy a generator that can power their combined wattage.
2. Fuel
Knowing which fuel source you prefer will help you find the right generator. For example, a solar generator will be your best choice if you don't want to keep spending money on gasoline.
Pro Tip: Some camping sites do not allow fuel generators, so check your favorite camping site for their rules
3. Weight and Size
Their power output typically defines the size and weight of generators. For example, a 1-2 kilowatt generator with a four-liter fuel tank can weigh around 44 lbs. Conversely, a larger 5-kilowatt generator with an eight-liter fuel tank will weigh approximately 66 lbs. See our article What Size Generator For Camping for more advice.
Start Camping Comfortably
Portable generators for camping are a great way to enjoy the outdoors without sacrificing the comforts of home. By considering the type of generator, fuel source, weight, and size, you can find the perfect one for your next camping trip.
With a portable generator, you can stay warm in the winter, cool in the summer, and have access to power for all your devices. So what are you waiting for? Start camping comfortably with a portable generator!
Quick Tip: check out our articles How To Ground A Generator When Camping, Tent Camping Must-Haves, and Off-grid Camping Essentials
FAQs
What types of portable generators are suitable for camping?
There are two main types of portable generators for camping: fuel generators and solar generators. Fuel generators offer more power and don't require recharging, making them suitable for running multiple devices. Solar generators, on the other hand, are quieter and more environmentally friendly but may have less power output and require time to recharge.
What should I consider when choosing a camping generator?
When selecting a camping generator, consider the usage and power output you need, the type of fuel source you prefer, and the generator's weight and size. For instance, if you need to power high-wattage appliances, you'll require a generator with a higher power output. Additionally, consider the rules of your camping site regarding fuel generators.
How do I determine the right size and weight for a camping generator?
The size and weight of a generator are typically correlated with its power output. Smaller generators around 1-2 kilowatts can weigh about 44 lbs, while larger ones with higher wattage may weigh more. Assess your power needs and transport capabilities to choose a generator that balances portability with power.
Can I use a portable generator to power all my devices while camping?
Yes, a portable generator can power various devices, but you'll need to ensure it has the capacity to handle the combined wattage of all your appliances. It's essential to calculate the power requirements of your devices before purchasing a generator.
Are there any tips for using generators while camping?
Yes, it's crucial to ground your generator properly to avoid electrical hazards. Also, be mindful of noise pollution and the environmental impact. Check out additional articles like "How To Ground A Generator When Camping" and "Off-grid Camping Essentials" for more tips and information.
What are the benefits of camping with a portable generator?
Camping with a portable generator allows you to enjoy the comforts of home, such as warm heating in winter, cooling in summer, and power for devices, without sacrificing the outdoor experience. It enhances comfort and convenience on your camping trips.