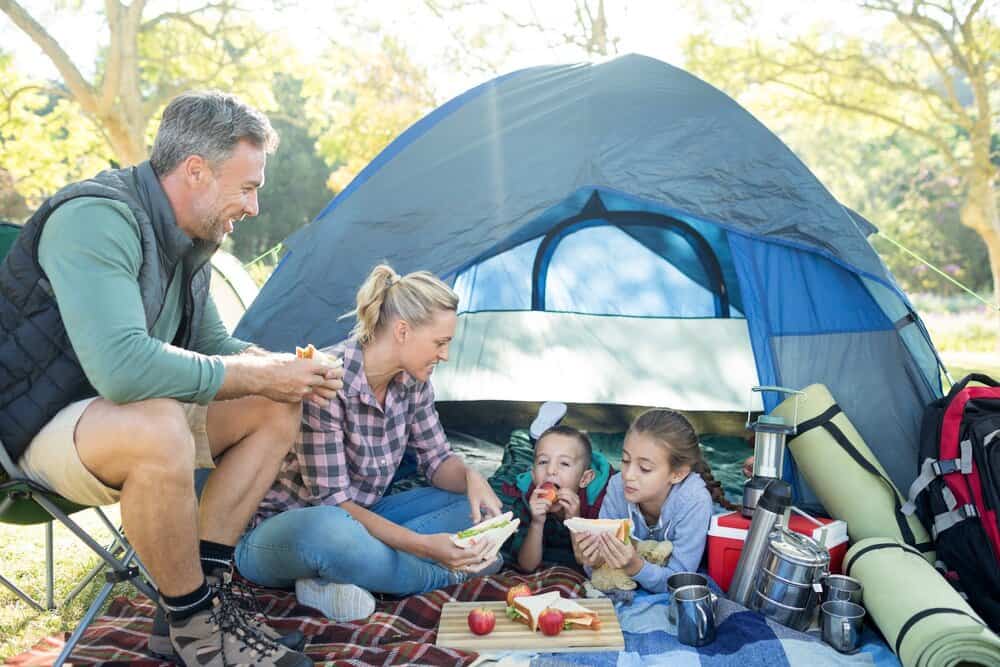 Camping is one of the most in-demand trends today. Experts predict the industry will reach a net worth of over 133 billion by 2030.
In the 1910s, scouts popularized this outdoor activity. The global pandemic also spurred a craze due to travel restrictions. In return, camping has never been so popular, and demand shows no signs of slowing down.
Deciding when to go can be challenging. If you want to uncover the best time to go camping, read on until the end!
Key Takeaways:
Summer Camping: The summer season is the peak time for camping, offering warm weather and extended daylight hours for a variety of outdoor activities. However, this popularity also means more crowded campsites.
Winter Camping: For those seeking solitude and a unique experience, winter camping provides a serene environment with stunning snowy landscapes. It requires more preparation and gear to stay warm and safe in the colder temperatures.
Fall Camping: Autumn brings cooler weather and beautiful foliage, making it an ideal time for those who enjoy hiking and less crowded campsites. The season is perfect for enjoying the daytime outdoors and cozy evenings by the campfire.
Spring Camping: Often considered the best overall time for camping, spring offers a balance of pleasant weather, fewer tourists, and the rejuvenation of nature. It's a great time for both family trips and solo adventures.
Personal Preference: Ultimately, the best time to go camping depends on personal preferences regarding weather, scenery, and experience. Each season offers unique advantages for different types of campers.
What's the Best Season for Weather Conditions?
Summer is the most popular time for camping and the best time to soak up the sunshine. Most of the 130 federally managed campsites sold out well in advance during this period.
The most enticing reason for summer camping is utilizing the glorious weather conditions. No matter which part of the U.S. you visit, you will likely experience high temperatures and little rain.
Due to the favorable weather conditions, you can also participate in outdoor activities. Many campsites in the U.S. sit near hiking, swimming, or other outdoor sports amenities.
The downside to summer camping is that you typically encounter crowded campsites just about anywhere you go.
What's the Best Season for a Unique Experience?
For a unique experience, you need a desirable yet unpopular period. This is the perfect description, for some people, of winter camping.
As you explore the campsite, you'll notice there are no crowds of tourists and few other campers. Sometimes, it almost feels as if you are alone in the world.
On top of having a tranquil experience, you will witness some spectacular scenery. Snow-capped hills, frozen lakes, and towns concealed under a blanket of snow await you.
If you're a newcomer to camping, you may want to embark upon some practice trips. Winter comes with freezing temperatures. This can be dangerous if you have little experience or don't possess the correct off-grid gear.
What's the Best Season for Scenery?
Fall camping is, without a doubt, the best time to admire breathtaking scenery. From the vibrant red foliage above your head to the crunching leaves beneath your feet, you may feel like you're in a Hollywood film.
The weather during this period is cool and crisp. This is ideal for sports enthusiasts hoping to build up a sweat during the day. At night, you will enjoy gathering around and listening to the crackling of the campfire.
During fall, you'll encounter a quiet atmosphere, but not so deserted as winter.
What's the Best Season Overall?
Spring is generally considered the best time for camping overall. Family, friends, and solo adventurers flock to nature from March to May. Overall, this makes it the second-most popular time for camping.
The chill in the air gives way to warmer winds, and gray clouds scatter, leaving blue skies. The best part is you can feel the upbeat atmosphere in the air without the herds of tourists.
The lack of tourists combined with pleasant weather makes it arguably the best period overall for camping.
You Know the Best Time to Go Camping
Many people consider Spring the best time to go camping. However, everyone has different priorities.
After reading our guide, you know the best period to suit your preferences. But where will you visit next?
Venture into our lesser known US national parks for camping destination ideas!
Sale
Bestseller No. 1
Bestseller No. 2
Stanley Perfect Brew Pour Over Set with Camp Mug- Reusable Filter – BPA-Free – Easy-clean Stainless Steel Coffee Maker – Hammertone Green
Note: 1)Too coarse a grind, too little coffee, or insufficiently tamping the grounds before brewing can all lead to inadequate pressure for a proper brew. 2)It is important to note that the amount of espresso extracted will vary depending on the grind size and amount and refinement may be needed when the size and amount are adjusted
BEST BREW EVERY TIME: Refresh your coffee experience with Stanley products coffee maker! The Stanley Pour Over coffee maker is a traditional way to brew using a Stainless Steel filter. Brew pour over coffee like a pro at home. It is easy to use, and environmentally friendly
STAINLESS STEEL FILTERS: The stainless steel design is stylish and non-breakable. The stainless steel filter helps extract your coffee's aromatic oils and subtle flavors instead of being absorbed by a paper filter. It's a smarter option for your coffee. The perfect solution for brewing your fresh brewed coffee at home, in your office, or outdoors
EASY TO USE: Pour the desired amount of coffee into the filter, place on top of a cup, coffee mug, slowly pour in the hot water, let the coffee maker drip out the water through the fine pour over filter, and remove the coffee dripper when done. Now you are ready to enjoy your drink
EASY TO CLEAN: Once done using the coffee brewer, rinse it quickly by hand and immediately use it again within 2-3 minutes for another flavor. Since it is a reusable coffee strainer made from stainless steel, it is better quality than plastic, ceramic, or glass coffee filters, it saves you money not buying paper coffee filters
Sale
Bestseller No. 3
POWERLIX Ultralight Sleeping Pad for Camping with Inflating Bag, Carry Bag, Repair Kit – Compact Lightweight Camping Mat, Outdoor Backpacking Hiking Traveling Camping Air Mattress Airpad
REJUVENATE YOUR BODY: Powerlix camping pad has revolutionary hexagon design made with body mapping technology. The hexagon air cells ergonomically support all of your pressure points, giving you superior support and comfort all night long, no matter how you sleep! The sleeping mat is also a camping gear must haves luxury, being comfortable yet lightweight. It rolls up small, making it effortless to carry around. The cot comes in a variety of color choices, sure to match anyone's personality.
LIVE YOUR LIFE TO THE FULLEST: It's time to plan a trip! Our camping sleeping pads cannot be easier to inflate than with our inflating bag. It has a dual action, non-leak air valve to inflate and deflate the mattress. First store air in the bag and push it in like a pump. Light & small when packed, it won't cause backaches from its weight and fits easily in your backpack. Being insulated, it's perfect for the best night of sleep during adventure, hiking, camping, backpacking, in any weather!
UNIQUE LONGLASTING DURABILITY: It's the mat of all mats! The self inflating sleeping pad is made of durable, outdoor grade materials. It includes thermal insulation, to keep your body warm from the cold winter ground. Our camping sleeping mat is 100% waterproof, making it perfect for any outdoor activities. You can say goodbye to sore backs and other discomforts normally left by bumps and rocks underneath the floor of your tent!
EVERYTHING YOU NEED FOR OUTDOORS: This exclusive camping sleeping pad also comes with storage bag, 2 repair kits, and a multipurpose inflating bag. A patch kit is also included, stitched into the top of the storage bag. The inflating bag was designed with you in mind, for all of your needs. In addition to inflating the mattress, this backpacking sleeping pad can be used for several different things, such as a pillow, a waterproof laundry bag, or a large waterproof airtight storage bag!
AFTER SERVICE WARRANTY: PowerLix guarantees to have your back! Our US-based customer service means that you can trust that if you're not satisfied for any reason, you can get a hassle-free refund or replacement. Don't hesitant to reach out if you have any questions. We want you to be nothing but happy with your new, top of the line, camping bed! We are confident of our camping pads for sleeping and know you will like it. That's why your purchase comes backed with our incredible warranty.
Sale
Bestseller No. 4
GearLight 2Pack LED Headlamp – Outdoor Camping Headlamps with Adjustable Headband – Leightweight Headlight with 7 Modes and Pivotable Head – Stocking Stuffer Gifts for Men
SUPER BRIGHT – Experience powerful hands-free LED camping lights that generate a brilliant, long-lasting beam with daylight color and definition, boasting a runtime of up to 10+ hours on the low setting making it the perfect work headlamp.
ADJUSTABLE COMFORT – The removable, washable, and adjustable headband on this LED headlamp ensures a comfortable fit for both adults and children. Weighing only 3 oz with batteries, it's the perfect headlight for outdoor adventurers.
VERSATILE DESIGN – Our premium headlamps feature a 45-degree adjustable head to direct light precisely where you need it. Choose from 7 different lighting modes, ranging from white strobe to red beam for safety
WEATHER RESISTANT – With water resistance and shockproof capabilities, the S500 headlamp flashlight is suitable for use in rain or snow, indoors or outdoors and the perfect Father's Day Gift for Dad. A must-have addition to your running, hiking, and camping accessories list!
VALUE PACK – Each order includes 2 S500 GearLight headlamps (AAA batteries not included). Keep one in your car and another at home for convenience making this the idea gifts for men
Bestseller No. 5
Sale
Bestseller No. 6
MPOWERD Luci Solar String Lights + Power Hub: White 44′ Rechargeable via Solar or USB-C, Detachable 44 ft Cord, 140 Lumens LEDs, Lasts Up to 40 Hours, Waterproof, Camping, Pool/Patio, Travel
MULTIFUNCTIONAL DESIGN Featuring a detachable 44 ft cord, you can remove and recharge the power hub or charge your devices, all while leaving your string setup intact. These lights have 3 modes (low (20 lumens, up to 40 hours), medium (70 lumens up to 24 hours), high (140 lumens up to 8 hours)) and a battery level indicator so you're never left in the dark.
BUILT-IN RECHARGEABLE 4000 mAh LITHIUM-ION BATTERY. The detachable power hub delivers 4000 mAh to power your mobile devices and can be charged via the solar panel or the built-in USB port.
BRIGHT AND LONG LASTING. Emitting 140 lumens of power via 20 shatterproof bulbs and 40 warm white LEDs (two LED lights per bulb) across a 44 ft detachable cord, this light provides up to 40 hours of light on a single charge, so you can keep your day going long into the night.
POWER UP WITH LUCI STRING. With mobile charging capabilities, when you choose to go back "on-the-grid" you'll always have juice to let people know you're ok, answer some emails, or just make the Insta world jealous.
COMPLETELY SOLAR, NEVER NEEDS BATTERIES. Luci's built-in high efficiency solar panel means that no batteries are needed – ever. Recharge fully via solar or quick charge via USB (20 hours / 3-5 hours).
Sale
Bestseller No. 7
CL Thermal Underwear Long Johns for Men,Hunting Gear Sport Top and Bottom Set Winter Base Layer Long Underwear for Outdoor
Extreme Warmth and Comfort: Perform your best, even on a chilly day when you wear CL fleece thermal underwear ! Adding some extra cozy, warm fleece to the mix, CL long johns for men amazingly help to tackle cold weather conditions and keep the comfort you crave. Made from 90% polyester and 10% spandex super soft fabrics, they also help reduce pilling and shrinkage. Prepare yourself for the cold with these fleece lined thermal underwear for men!
Strong Moisture Wicking(Without the Sweaty Mess): Our fans say the unique breathable, moisture-wicking fibers on CL thermal underwear will wick away moisture to keep you dry with no sticky or clammy feeling so you can wear them all day for your work or snow adventure. The smiles on men's faces will tell you how satisfied with this thermal underwear set.
4-Way Stretch Insulated Underwear: While adopting the design of the Four-way stretch, we improved the crotch and armpit according to the feedback of market customers. make the reach and squat more comfortable while retaining excellent elasticity and durability for maximum mobility. CL uses high-quality stitching for thermal leggings and long sleeve shirts to beat super-active days and many muddy adventures.And insulated design let you get rid of static trouble in dry autumn and winter.
Easy Care Of Base Layer Set:Our men's base layer top and bottom are set with no labels in order to obtain greater comfort, which can reduce any skin irritation. You can slip them on and off easily and can be worn under your clothes for added insulation and at the gym for added support and movement. And these men's thermal underwear will not fade after washing. The highest dyeing fastness even after multiple washing will not fade and shrink.
For Any Occasion: We stock these crew or turtle neck thermals for men in a wide range of sizes. The thermal set is fitted with elastic for added comfort to keep tops and bottoms from falling down or bunching up (even on long hiking), and if your family enjoys hunting, camping, snowboarding, skiing, cycling, or running then CL makes a great base layer. Also it is good to wear at home or as a base layer under your coats, it will warm you as comfy pajamas on cold nights.
Bestseller No. 8
Survival Kits, Gift for Men Dad Husband, Emergency Survival Gear and Equipment 19 in 1, Fishing Hunting Birthday for Men, Camping Accessories, Cool Gadget, Includes Parachute Cord
Gifts for Men: For those who love the outdoors, this is sure to be a unique gift for fathers, husbands, boyfriends, scouts, cool gadgets, and Christmas stocking stuffers for birthdays, Valentine's Day, and Christmas! This will give your loved ones a surprise.
19-in-1 Survival Kit: This all-in-one survival kit contains everything any survivalist or outdoor enthusiast needs. 19-in-1 includes a 5-in-1 parachute cord bracelet, built-in compass, whistle, compass, and a thermal blanket to prevent hypothermia. It can help you quickly solve the needs of multiple scenarios.
Easy-Carry & Lightweight: The box measures 8.2 x 5.1 x 2.7 inches, weighs only 1.8 pounds, and has a foam interior that is both waterproof and shockproof. Easy to carry and fits in any car, hiking backpack, or camping gear.
Safe & Practical: This camping accessory is the perfect companion to be prepared for any emergency. It also helps you stay safe and secure while hiking, camping, hunting, fishing, backpacking, or adventuring.
Friendly Service: This survival kit will better reflect your love for your father/husband/boyfriend. If it doesn't meet your expectations or you have any questions, please contact us, and we will solve your problems so you can get this incredible gift without worries.
Sale
Bestseller No. 9
Blukar Flashlight Rechargeable, 2000L High Lumens Tactical Flashlight,Super Bright Small LED Flash Light-Zoomable,Adjustable Brightness,Long Lasting for Camping,Outdoors,Christmas Gifts Men&Women
【Super Bright flashlight】With stable performance and low power consumption, it can provide a uniform high-brightness beam and a wider range of illumination to meet your daily needs.
【4 Lighting Modes & Zoomable】One button control of 4 lighting modes: High/Low/Strobe/SOS. The zoomable design of the flashlight adjusts the focus as needed, giving you the freedom to choose a spotlight or floodlight for long distances or larger illuminated areas.
【USB Rechargeable】Built-in 1800mAh can work up to 16 hours in normal use. You can charge this flashlight directly via the included USB cable.
【Durable and Portable】The flashlight shell is made of high quality aluminum alloy with excellent hardness, wear resistance and drop resistance. The pocket is designed for easy portability and can fit in your handbag, backpack or survival kit.
【Multiple Uses】The kit includes: 1*Rechargeable Flashlight, 1*USB Cable. The lightweight and practical LED flashlight can be widely used for daily lighting, power outages, emergencies, etc. It can also be used for outdoor sports such as dog walking, camping, hiking, fishing, running.
Bestseller No. 10
FAQs:
What season is considered ideal for camping to enjoy good weather?
Summer is often favored for camping due to the likelihood of warm temperatures and minimal rainfall across the U.S., making it suitable for outdoor activities like hiking and swimming.
How can I experience a unique and peaceful camping trip?
For a tranquil and unique camping experience, winter camping is a great option. It offers serene landscapes with fewer crowds, allowing for a more solitary adventure amidst snow-capped scenery.
Which time of year offers the most stunning natural scenery for campers?
Fall is renowned for its breathtaking scenery, with vibrant foliage and cooler, crisp air that is perfect for daytime outdoor activities and cozy evenings around a campfire.
What is the best season for camping to avoid crowds?
Spring and fall are typically less crowded compared to summer, providing a balance between pleasant weather and a quieter camping experience.
Is there a best time of year for camping that combines good weather and fewer tourists?
Many consider spring the best overall time for camping due to the warmer weather, clearer skies, and absence of summer tourist crowds, making it an upbeat yet peaceful time for outdoor adventures.
What should I consider when deciding the best time to go camping?
Your preferences for weather, scenery, and crowd levels should guide your decision. Consider what you value most, whether it's warm weather, unique experiences, scenic beauty, or solitude.
Are there any resources for finding lesser-known but worthwhile camping destinations?
Yes, exploring lesser-known U.S. national parks can offer exceptional camping spots. Resources like CampingEssentialsAndMore.com provide insights into such destinations.