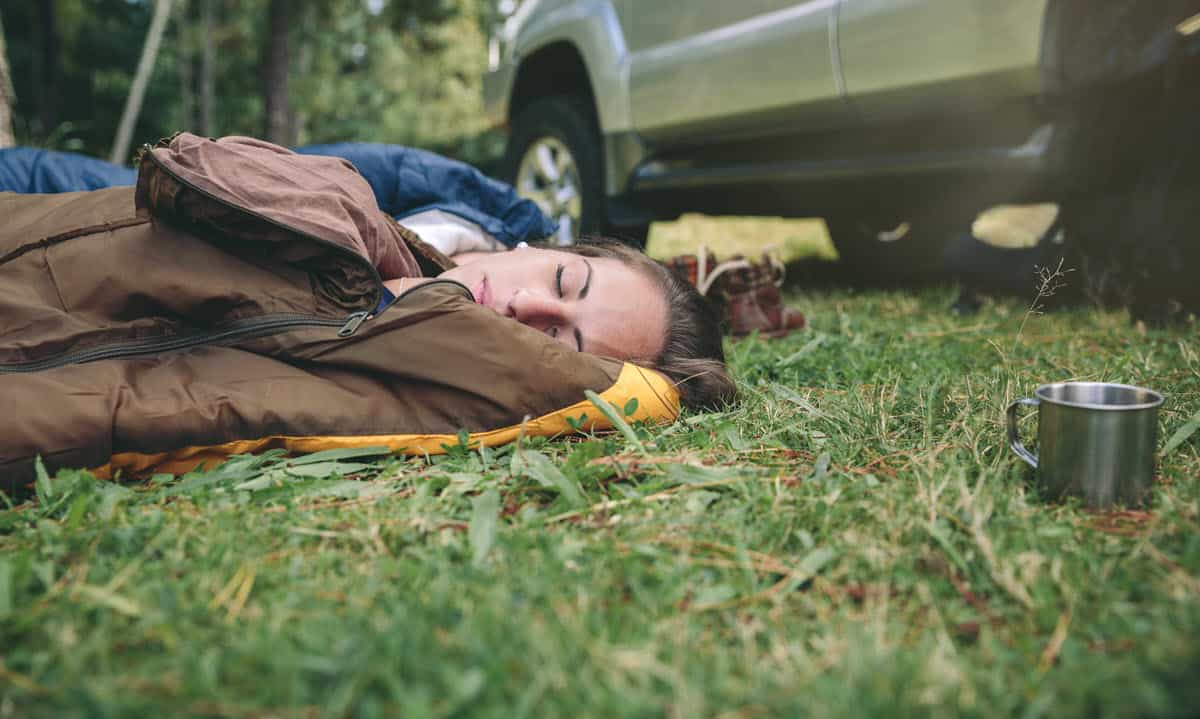 Did you know that more than 56 million households in North America camped in 2021?
Camping is a popular activity for people of all ages. From gazing at the stars to enjoying s'mores by a bonfire, camping provides an escape from reality.
If you want a truly minimalistic camping experience, cowboy camping may be the way to go.
What is cowboy camping? Continue reading to learn more.
Key Takeaways:
Cowboy Camping Defined: Cowboy camping is a minimalist approach to camping, where you sleep outdoors without the use of traditional shelters like tents or hammocks, directly under the stars.
Essentials for Cowboy Camping: Despite the minimalistic nature, essentials such as sleeping bags, food, water bottles, and blankets are still necessary for a comfortable experience.
Benefits of Cowboy Camping: This style of camping allows for an unobstructed view of the night sky and a deeper connection with nature, offering a magical experience with fewer distractions.
Group Dynamics: Cowboy camping can enhance the group experience, promoting fellowship and allowing for bonding opportunities away from the distractions of daily life.
Location Considerations: Dry areas are recommended for cowboy camping to avoid rain. However, it's wise to bring a tent or tarp as a precaution against unexpected weather.
Wildlife Precautions: Food should be stored properly and campsites kept clean to minimize wildlife encounters.
Weather Preparedness: Checking weather forecasts and being prepared for sudden changes is crucial for a safe cowboy camping experience.
Insect and Animal Safety: Awareness of the surroundings and campsite selection away from insect habitats can reduce the risk of encounters with insects and snakes.
Privacy and Condensation: Natural features can provide privacy, and selecting a campsite away from water sources can minimize condensation issues.
The Allure of Cowboy Camping: The primary appeal lies in the direct engagement with the natural environment, from star-gazing to feeling the night breeze.
What is Cowboy Camping?
Cowboy camping is camping outside without shelter (for example, a tent or hammock). A cowboy camping experience is a simple one, in which campers fully embrace their surroundings.
Cowboy campers will still need to bring sleeping bags and other camping essentials (such as food, a water bottle, and a blanket). The absence of tents and shelter however can make the camping setup process easier.
Campers can focus on the scenery with minimal distractions. If you desire to gaze at the stars in the middle of the night, all you have to do is look up from your sleeping bag. Cowboy campers are one with nature and the experience is often described as magical.
Quick Tip: Even cowboys might want to know How to Shower While Camping.
Groups and Cowboy Camping
Cowboy camping is a great experience for groups. Whether you are camping with family, friends, or an organized group (for example, boy scouts or a youth camp), cowboy camping allows you to enjoy fellowship.
With all the distractions of daily life, cowboy camping provides an experience where campers can focus on living in the moment. While camping, you have the perfect opportunity to engage in quality bonding time and participate in a variety of outdoor activities, such as cooking on an open fire with a grill like the one on the right: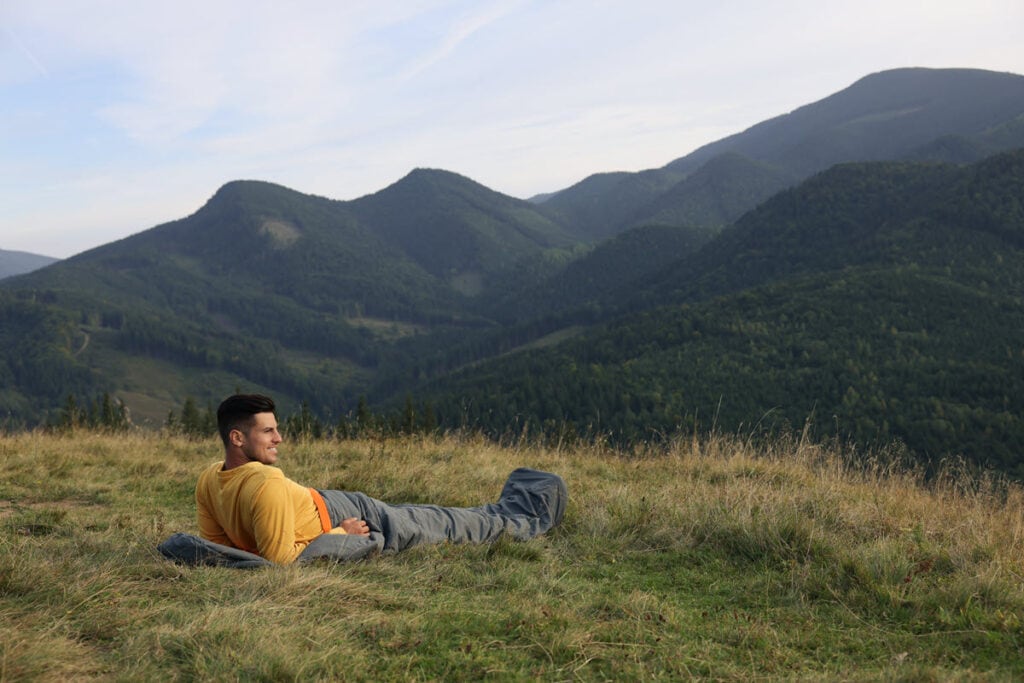 Where Should You Cowboy Camp?
To enjoy the full cowboy camp experience, it is recommended that you camp in a dry area. Be sure to check the weather for rain or storms before leaving for your camping trip.
While a cowboy camping experience is shelter-less, it is a smart idea to pack a tent in case of unexpected weather. The last thing you want is caught in a storm without some form of shelter.
At least bring a tarp, like this one on Amazon:
When selecting a camping site, you can use your surroundings to your advantage. Pick a spot with some natural shelter such as trees. This will allow you to feel a breeze as well as partially cover you if light rain falls. 
What About Animals?
As with any camping approach, it is important to be cautious with your campsite. Wild animals such as bears do not usually approach humans. But they might choose to enter your campsite if they see or smell food.
To minimize encounters with wildlife, responsibly dispose of or store your food some distance away and maintain a clean campsite.
Discover More Camping Content Today
"What is cowboy camping?" is one of many camping topics we highlight at CampingEssentialsAndMore.com. Additional topics include the top 10 dog-friendly national park campsites, campfire safety and etiquette, and how to fit camping gear in your car.
We cover all things camping and want to help you plan the ultimate camping trip! Whether you are camping by yourself or with a group, we got you covered. For more informative articles, please read more of our blog today.
Does cowboy camping sound uncomfortable? You might like to look into What Size Generator For Camping?
FAQs
What is cowboy camping?
Cowboy camping is sleeping outdoors without using a traditional shelter like a tent. Instead, you'll typically use a groundsheet, sleeping pad, and sleeping bag. It's a way to experience nature more directly, with nothing between you and the stars.
Why should one consider cowboy camping?
Cowboy camping offers a unique experience where you can watch the sunset and sunrise directly from your sleeping bag. It eliminates the chore of setting up and taking down a tent and provides an unparalleled view of the stars at night.
Is it safe to cowboy camp without a tent?
While cowboy camping is a beautiful experience, bringing some form of shelter, like a tent or tarp, is always recommended in case of unexpected weather changes. The unpredictability of nature makes it essential to be prepared.
Where are the best places to cowboy camp?
Desert trails, dry forests, and areas that don't see a lot of precipitation are ideal for cowboy camping. Locations with fewer bugs, such as dry areas, are preferable. High-altitude pine forests and spots above the treeline away from water sources can also be suitable.
How can one predict the weather for cowboy camping?
Checking a weather forecast before heading out is crucial. Some hikers use devices like the Garmin inReach to get satellite weather updates. Understanding local weather patterns and avoiding cowboy camping during monsoon seasons or when dark clouds are present can also be beneficial.
What about insects and potential dangers like snakes?
Generally, insects and snakes avoid humans. It's essential to be aware of your surroundings and avoid setting up camp near anthills or other insect habitats. While cowboy camping, the only critter that might approach could be a curious frog or similar harmless creature. However, setting up a tent in mosquito-prone areas might be a better option.
Are there any concerns about privacy while cowboy camping?
For solo campers, privacy might be less of a problem. If camping in a group, natural features like bushes, boulders, or even outhouses can provide privacy when needed.
How does one deal with condensation during cowboy camping?
Choosing a suitable campsite can help reduce condensation. Camping away from water sources and under trees can minimize dew formation on the sleeping bag. If condensation does occur, taking advantage of warm and dry daytime conditions to dry out the sleeping bag is recommended.
What's the primary appeal of cowboy camping?
The main allure of cowboy camping is the direct connection with nature. Waking up in the middle of the night to a sky full of stars, watching sunsets and sunrises from the comfort of a sleeping bag, and feeling the cool night breeze are experiences that are hard to replicate with traditional camping.
Quick Tip: Any real cowboy would be interested in equestrian camping.